Monday to Friday from 9:30 a.m. to 7:00 p.m.
Saturday from 10am to 19h15
Sunday from 9am to 19h15
On weekdays:
Monday to Friday, 12.30 pm and 6pm
The weekend:
Saturday :
18h-Early mass, with choir organ and liturgical animator
Sunday :
9.30 am-Messe Chapelle de la Virgen
11h-Mass with large organ, choir organ
And the singers of Saint-Eustache
18h-Mass with large organ, choir organ and liturgical animator
During the big religious holidays, during the school holidays, especially during the summer, changes can be made to these times. These will be indicated in good time.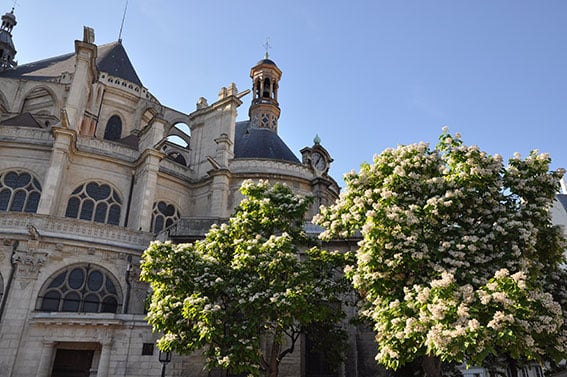 Contacts :
General Email: accueil@saint-eustache.org
Telephone: 01 42 36 31 05
Fax: 01 42 33 77 87
Address: 146 Rue Rambuteau – 75001 Paris
Mailing Address: 2 Impasse Saint-Eustache – 75001 Paris
The parish Agenda
Messes du Dimanche des Rameaux
13 & 14 Avril
Samedi à 18h et dimanche à 9h30, 11h et 18h avec bénédiction des Rameaux au profit de La Soupe Saint-Eustache
Triduum Pascal
Jeudi saint, 18 avril
7:30 pm, celebration of the Lord's Supper with foot-washing and procession to the Reposoir
21h, Veillée avec les Chanteurs de Saint-Eustache et Philippe Grauvogel, hautbois
Vendredi saint, 19 avril
12h30, Chemin de Croix
15h, Chemin de Croix avec l'école Massillon
19h30, Célébration de la Passion du Seigneur
Samedi saint, 20 avril
21h, Veillée pascale : Messe de la Résurrection du Seigneur
Dimanche de la Résurrection
Dimanche 21 avril
Ouverture de l'église à 10h
11h et 18h, Messe du jour de Pâques
Du lundi au vendredi, du 22 avril au 3 mai inclus, il n'y aura pas de messe à 18h.
Mardi 4 juin
15h, Messe avec le Mouvement Chrétien des Retraités (MCR)
Located near the church choir
Monday to Saturday from 10am to 12.30 pm and from 1.30 pm to 6.30 pm
Sundays from 9.30 am to 1pm and from 4pm to 7pm
Saint-Vincent-de-Paul Chapel
Monday to Saturday from 3:30 pm to 5:30 pm
Audition du grand orgue tous les dimanches de 17h à 17h45
(Before the mass of 18h)
Free participation
Auditions Agenda